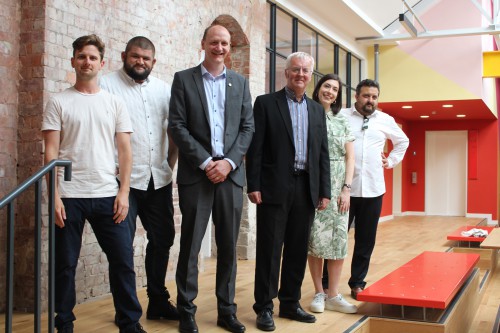 An exciting new creative industries development programme is being kick-started with backing from the Tees Valley Mayor and Combined Authority, in partnership with top agency Northern Film + Media.
Tees Valley Screen is being set up to provide support to individuals and businesses in the region who work, or are looking to enhance their work, within film, television and moving imagery. Regular networking events, training, and access to industry experts will be held as part of the scheme, providing opportunities for funding.
It is anticipated that the initiative will be run from Hartlepool's new BIS centre. The £3million Grade II Listed former Post Office building in Whitby Street, forms part of the wider Innovation and Skills Quarter (ISQ) project that aims to revitalise Church Street and develop a thriving creative industries quarter.
The region has recently played starring roles in a number of film and television productions such as Vera, Victoria, Inspector George Gently and has featured in Hollywood blockbusters such as Atonement.
The British Film Institute (BFI) estimates that the film industry contributed £6.1billion to UK GDP in 2016, an increase of 20% from the previous year. The Tees Valley continues to promote itself as a filming-friendly, welcoming and adaptable place to base productions.
A steering group for Tees Valley Screen has been appointed to shape the content and direction of the programme, made up of prominent regional industry specialists.
Northern Film + Media has successfully helped to secure a major new film which will be shot in the region later this year. It has already released its first open call for artist residencies, supported by Arts Council England and Tees Valley Combined Authority, to experiment with new cutting-edge technologies.
For more information on upcoming events and commissions, go to the Tees Valley Screen website www.northernmedia.org/project/tees-valley-screen.
Share this post...